The other day, the kids wanted to take Revi on his walk to Shaughnessy Park, a destination we discovered the week before. It is a lovely little oval shaped green space surrounded by grand mansions in the middle of Vancouver's old money neighbourhood.
I agreed they could choose the location of our walk on the condition they use our paper map to get us there. I started to introduce the basic concepts (where are we and where do we want to go) but was met with severe objections. They've figured out that my new mission is to turn everything into a learning opportunity and so their reaction was "No! We know how to find the park! We don't need to learn how to use a map!." So I quietly packed the map and we set off, Trevor confidently leading the way.
Unlike most of Vancouver where the streets are a grid, the Crescent (the road that rings the park) acts like a roundabout with all the other streets fanning out like spokes. None of the streets go in straight lines - they curve and twist which adds to the grandeur of the neighbourhood. So, it was only a matter of time before Trevor admitted he didn't know where we were. The map came out, we had our lesson on a street corner and they found the park.
You can see the route we took. By not following the map, we ended up at Granville St. at which point the map was reluctantly brought out.
Because it was a beautiful day, all the benches at the park were occupied. Trevor & Fiona tried climbing a few trees but they weren't ideal trees for climbing.
Instead, they decided to build me a stool so I could sit and read the newspaper.
It got the thumbs up for structural integrity and was surprisingly comfortable!
Then, of course, they had to build stools for themselves. Trevor's worked out just fine but Fiona's first attempt was reminiscent of Goldilocks sitting on Baby Bear's chair.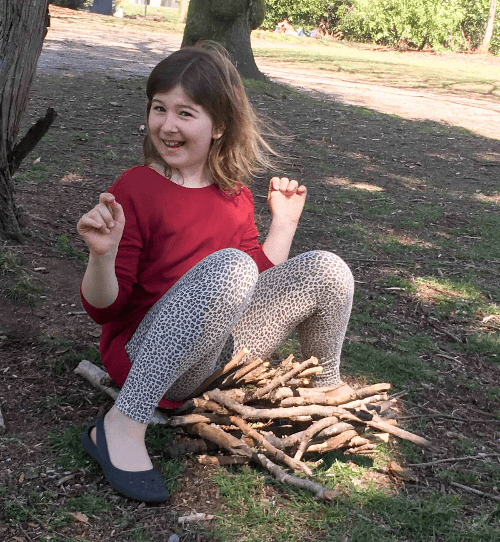 With a little help, Fiona ended up with a sturdy stool too.
The option at this point was to head home or agree to another navigation lesson to seek out Yum, one of the only ice cream shops in town still serving cones. Not surprisingly, they were keen to use the map and got us to Yum without a hitch.