Time for the fun part - when we put the candy in and it finally starts to look like a piñata!
First of all, we assembled our candy stash.
Then we stuffed it all inside.
Trevor's design called for black, white and red so we bought two rolls of white crepe and one each of the other colours from Michael's.
We made some thin glue by using regular white craft glue and diluting it with water.
Next we folded a strip of white crepe in half and then did several small cuts to create a piece of 2 layer fringe approximately 3" long.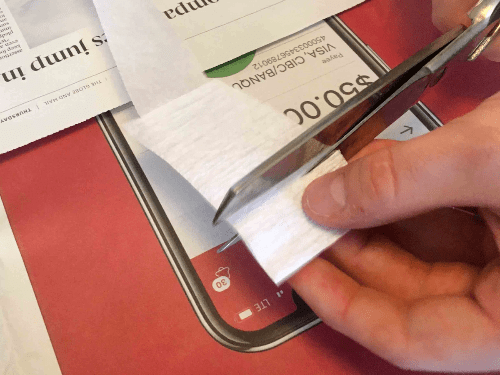 Using a small paintbrush, liberally paint some glue where you want the fringe to stick. We started on the outside edge of the front side, allowing the fringe to hang over the edge a bit.
We went all the way around the outside and then started layering the fringe rows in toward the middle.
We had to use smaller size pieces of fringe for rounding the corners and for the central strip.
For the sides, we alternated stripes of white, red and black.
And for the final touch, Trevor crafted an exclamation point out of the black crepe on both the front and back.
And voila! One custom design piñata, stuffed and ready for the birthday celebrations!