Last week, our kitchen science was learning about gelatin. And what better way than to make Gummy Bears? The first step was ordering these molds and then we used this recipe from the fabulous blog My Kitchen Love.
They are super easy to make. You need:
honey
unsweetened fruit juice
lemon juice
gelatin
molds & a dropper
cookie tray (to make moving the full molds around easier)
small saucepan
measuring tools (1 cup, 1 tbps & 1 tsp)
Step 1: Put 1 tbsp of honey in the saucepan and heat on medium.
Step 2: Add 1 cup of juice (we chose grape/apple).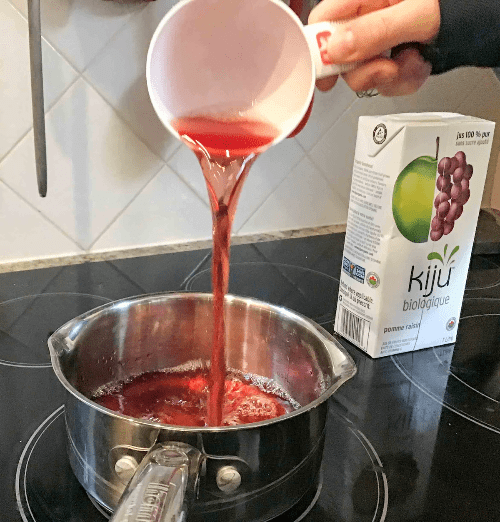 Step 3: Once the liquid is hot, 1 tsp of lemon juice. Then slowly, add 3 tbsp of glycerin, whisking constantly until it has all dissolved. The package we bought had little sachets that are 1tbsp each so we just used three of them.
Step 4: Turn off the burner. Using a dropper, fill each gummy mold. We found they worked best if they were as full as possible (almost bulging over the top). We kept our pot on the warm surface to prevent the glycerin from starting to solidify while we did this step as it took awhile!
Step 5: Cool the Gummy Bears. The recipe suggested putting them in the fridge for 20 minutes. Ours were still pretty jiggly after this so we put them back in for another 20 minutes. Even then, they were hard to extract from the molds without breaking and had a mushy texture. So we eventually put them in the freezer for about 30 minutes. At this point, they popped out easily, they were well formed and they had the right texture. Yum!
While we munched on our tasty treats, we read a few articles about gelatin and learned about the chemistry behind it.