This week's kitchen science lesson (by Jen from Calgary) was about caramelization. We used an easy recipe to learn about this chemical reaction and the magic it produces!
We decided to assemble our materials first as things move fast once you get going. Both kids were going to make a batch so they each needed the following:
1 cup white sugar
6 tbsp butter
1/2 whipping cream
1 tsp salt
a heavy bottom saucepan
a wooden spoon
We warmed up the pots on medium heat and then added the sugar.
Then there was LOTS of stirring. It took awhile for anything to happen but we didn't' want the sugar to burn.
After what felt like forever (but was more like 10 minutes), the sugar started to clump together and felt a bit thicker.
We kept stirring, noticing that the sugar started looking more wet.
Eventually the sugar started becoming more liquid than solid.
Finally, we were left with an amber coloured syrup.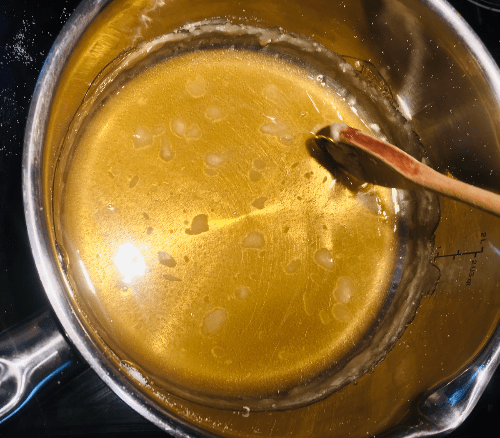 We added the butter in, chunk by chunk and noticed how the liquid bubbled a lot.
Once all the butter was in, it was quite bubbly and starting to look a lot like caramel sauce already!
Next, we added the whipping cream in slowly. There was a lot of steam and bubbling so we were happy to have a large enough saucepan.
Once the cream was mixed in, we removed the pot from the heat and added salt.
Since the kids each made their own batches, we had two to compare. Trevor's is on the left and Fiona's is on the right. Trevor's was darker in colour than Fiona's and had a more bitter taste. His reaction also started much sooner than Fiona's and happened at a faster rate. We figure that his burner must have been a bit hotter resulting in his sugar getting slightly burnt. The lesson learned is that the slower you go, the better your sauce will be!
We enjoyed our sauce on ice cream (with some tasty Peanut Butter Chocolate Squares) and it was DELISH!!!